ROSE K. PATTERSON
EACH LIFE, INDEED, HAS ITS OWN PURPOSE, PAINTS ITS OWN PICTURE, IS THE EDITOR OF ITS OWN STORY, AND LEAVES ITS OWN MEMORY.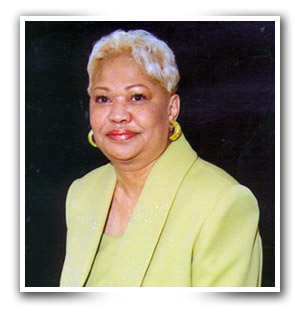 The treasured life of Rose Elmer Kelly Patterson began taking shape at a time so ordered by God on June 25, 1941 in Nashville, Tennessee. She was the daughter of the late Mr. Elmer Earl Kelly and the late Mrs. Rosamond McAfee Kelly. being their only child assured the Kellys that Rose would always be at least two - their oldest child and their baby. Rose was taught the valueof a Christian upbringing in the St. John African American Episcopal Church in Nashville, tennessee where she enbraced and accepted Christ as her Lord and Savior.
Characteristics soon developed within Rose that forced her into leadership. Not only was she expected by her parents tolead, teach and be their star; she was also expected to remain their beautiful, protected, little baby girl. Rose mastered both! Not only was she a great leader and teacher, she was also compassionate, easily moved to tears and a true "cry baby". When time so demanded, Rose became the caregiver for both her parents.
After receiving a basic elementary education and graduating from Pearl High School in Nashville, she received a bachelors Degree from central State University in Wilberforce, Ohio. After moving to Memphis in 1970, she later married James O. Patterson, on January 10, 1971. Rose united with Pentecostal Temple under the pastorate of her father-in-law, the late Bishop J. O. Patterson, Sr.
Mrs. Patterson was an active participant in the political career of her husband Bishop J. O. Patterson, Jr. who served as a member and Chairman of the Memphis City Council, State Senator and State Representative as well as the first African American to serve as Mayor of the city of Memphis.
Rose led a colorful life as a wife, mother, educator and political activist. She fulfilled each of these roles with pride. And so after blossoming in the Garden of Life, on Friday, September 30, 2005, she answered the call of the Master Gardener: "Rose, the Master is come and calleth for thee."

Rose Elmer Kelly Patterson has forsaken this earthly garden and now lives eternally in the garden of paradise. She leaves to cherish her memory, her children: Dr. J. Patterson, III , Aaron Lamont Patterson, Jennifer Rose Patterson, and Charles H. Mason Patterson.
TO VIEW PHOTOS, RIGHT CLICK ON PRESENTATION AND CLICK "PLAY"